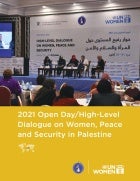 In 2000, the UN Security Council Resolution 1325 (UNSCR 1325) established the global agenda for mainstreaming gender in peace and security -the Women, Peace and Security (WPS) agenda. UNSCR 1325 has been followed by nine additional resolutions. These resolutions outline UN and state obligations related to the needs and priorities of women and girls affected by conflict as well as to ensure that peace is brokered in an inclusive and sustainable manner. In March 2021, The State of Palestine endorsed the second National Action Plan (PALNAP). The PALNAP identifies the priorities for the implementation of UNSCR 1325 in Palestine and is based on four pillars: 1) protection and prevention; 2) accountability; 3) participation; and 4) relief and recovery. UN Women organized an Open Day/High Level Dialogue on Women, Peace and Security (WPS) from 19 to 20 October 2021 in Gaza City.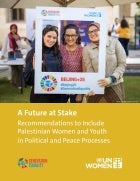 When on 15 January 2021 Palestinian legislative elections were announced, the new year started out on a note of tentative hope. Palestinian women and youth who have had little to no opportunities in their lifetime to cast votes or run for office could not help but get energized. Just a few months later, by late May 2021, any optimism about the new year was gone. By this point, not only had elections been postponed indefinitely, but 256 people (23 girls, 43 boys, 40 women and 150 men) had been killed during the Israeli bombing of Gaza and dozens of families in Sheik Jarrah, Silwan and elsewhere continued to be at risk of imminent eviction from their homes.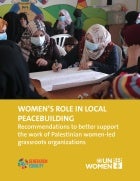 In April 2021, young Palestinian activist and journalist Muna el-Kurd caught the global attention when she started an international movement with the launch of the hashtag #SaveSheikhJarrah and tirelessly mobilized online support for families facing eviction from their homes in East Jerusalem. She addressed mainstream media and appeared in front of the UN Human Rights Commission. Other women as well took active part in Sheikh Jarrah's residents' meetings, attended hearing sessions at the Israeli courts, organized to keep a street presence in the neighbourhood and provided refreshments for solidarity activists. Meanwhile, Palestinian women journalists were at the frontline reporting the events, with reports of some of them enduring physical assault and arrest as a consequence.