In the oPt and around the world, there is an increasing recognition amongst humanitarian actors of the urgency to ensure that the different needs of women, girls, men and boys are taken into account and included in all humanitarian assistance (design, planning, implementation and monitoring). Failure to do so hampers an effective humanitarian response and may put beneficiaries' lives at risk1. According to IASC Gender Handbook for Humanitarian Action2, integrating gender equality also reinforces a human rights-based approach to humanitarian action which improves programming by respecting and protecting the universally recognized rights and dignities of every individual as a human being. Incorporating gender equality in humanitarian action therefore enhances the impact of humanitarian strategies and interventions.
This document is an assessment of 'Protection, Response and Preparedness to Address Needs of Displaced and Vulnerable Women in Gaza', funded by Japan. The findings of the assessment are that the Cash for Work intervention was assessed to be highly relevant and to have achieved its objectives. The women beneficiaries clearly appreciated the cash for work opportunities, the elevated social status they gained, the level of autonomy and the additional freedom to make their own decisions regarding household expenditure.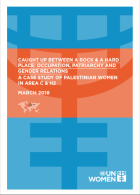 This report is an in-depth, gender-based study designed to identify - and help voice - the needs and priorities of women living in areas under occupation and facing prolonged humanitarian crisis. The findings, conclusions and recommendations of the report are addressed to humanitarian, as well as development and political, actors to enable them to develop an informed humanitarian response that addresses the gender-differentiated impact of the Israeli Occupation on community members in general and women in particular.