UN Women in cooperation with humanitarian sectors and clusters has developed a collection of women's stories under blockade in Gaza. The stories aim to give a voice to women in Gaza who suffer the consequences of violence, poverty and limited access to services.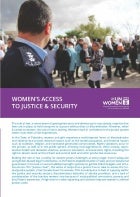 In the State of Palestine, women and girls experience multi-layered forms of discrimination and violence due to both external factors such as the Israeli occupation, and internal factors such as tradition, religion, and normative-generated conservatism. Making the rule of law a reality for women poses challenges at every stage: from inadequate and gender-biased legal frameworks, to ineffective implementation of laws and constitutional guarantees; from lack of accountability/oversight systems to gender-blind budgets and infrastructures.

Several international instruments emphasize the right of women to political participation and access to decision-making positions. The Basic Law of Palestine, as well as other legislation, also emphasizes women's right to political participation. Women's participation in political life is important because it realizes democracy in society, contributes to higher development rates, and embodies complete citizenship rights for women. Women's participation in political life depends upon social, political and cultural factors and, in the Palestinian case, the Israeli occupation, which hinders political practice for men and women.