The second study report of UN Women-supported series on women's access to justice in Palestine presents the unique challenges faced by Palestinian women in East Jerusalem to access justice and the realization of their political, socio-economical, legal and cultural rights.
Where are women? Where is women's accessibility to "justice"? Are there possibilities for justice in the context of military occupation. The report delves into the spatio-temporal, socio-legal, political and economic factors and ideologies to uncover hidden abuses and analyze policies and practices that hinder women's ability to access the prevailing legal systems in the West Bank and enjoy their rights to a secure and dignified life.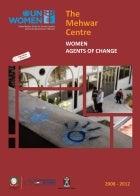 The need to establish a space, where women victims of violence in the occupied Palestinian territory feel safe and have access to specialized services led to the establishment of the Mehwar Centre in 2008. This report is a tribute to the brave women agents of change, while illustrating the achievements of the Centre between 2008 and 2012, as well as the diversified efforts and collaboration that exist among its key partners.