Initiated in 2004 in partnership with the United Nations Development Programme (UNDP), Sabaya was UNIFEM's (now UN Women's) largest programme in the occupied Palestinian territory, benefiting more than 25,000 Palestinian rural and marginalized women both in the West Bank and Gaza Strip.
Although women's human rights have advanced in the occupied Palestinian territory (oPt), serious legal and cultural barriers in numerous aspects of women's daily life have prevented their rights from fully being realized.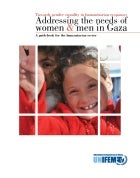 The already grave humanitarian situation caused by the 18-month-long blockade of the Gaza Strip was compounded by Israel's 23-day military offensive in December 2008 and January 2009. The social and economic repercussions spread across all sectors of Gazan society, but were also mediated by men's and women's gender roles and identities.