On 21st anniversary of Resolution 1325, UN Women brings together in Gaza Palestinian women and youth for national dialogue on Women, Peace and Security
Date: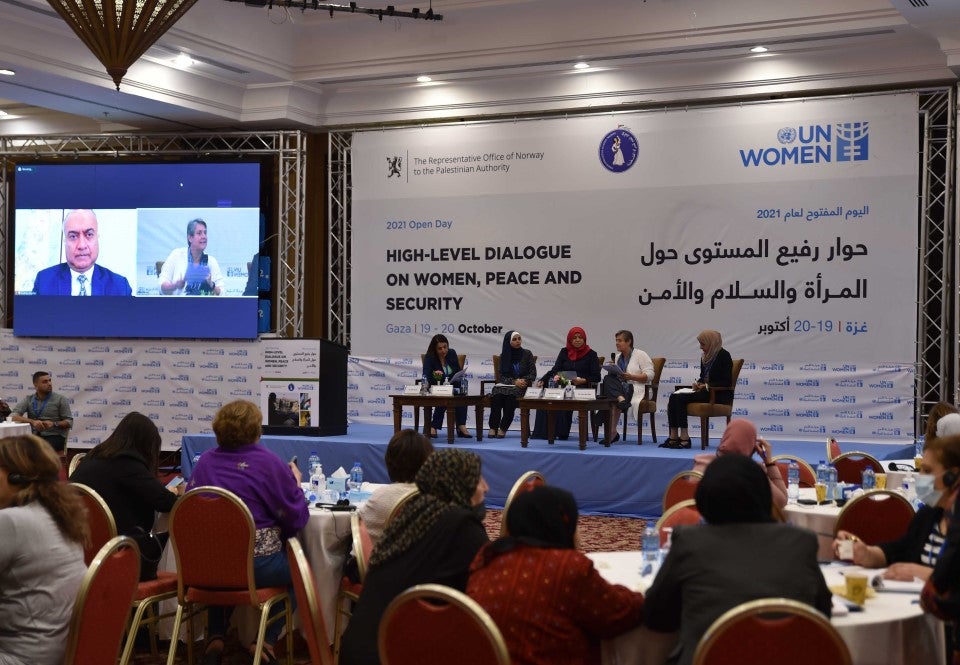 Gaza – In partnership with the General Union of Palestinian Women (GUPW), and with support from the Government of Norway, UN Women Palestine held its annual Open Day on Women, Peace and Security (WPS) in the period 20-21 October 2021 to celebrate the 21st anniversary of UN Security Resolution 1325 and reiterate calls to promote Palestinian women's role in peace and security. The event served as a platform for Palestinian women, gender equality advocates and the international community to reflect on the implementation of UN Security Resolution 1325 in Palestine, 21 years after its adoption.
This year, the Open Day took place in Gaza City, in solidarity with women impacted by the escalation of May 2021 and to ensure that voices from Palestinian women in Gaza are not left unheard.
The event brought together women, including young women, from all over Palestine, representing different perspectives and coming from all sorts of backgrounds. It was a rare opportunity for Palestinian women from the West Bank and Gaza to be in the same room, talk to each other, recognize their differences but fortify what brings them together as Palestinian women.
The event also saw a significant participation from Palestinian youth, who shed light on their vision, role and the challenges they encounter as gender equality advocates.
"Analysis of peace processes around the world shows that inclusion of women increases the chance of an agreement. We remain committed to supporting efforts to fully tap into the peacebuilding potential of Palestinian women and youth", said Ms. Lynn Hastings, Deputy Special Coordinator for the Middle East Peace Process and Resident and Humanitarian Coordinator for the occupied Palestinian territory. "Only by breaking the cycle of violence and restarting an inclusive peace process with fair and equal representation of women at the negotiating table can a long-lasting solution for Israeli-Palestinian conflict be achieved."
Over the two days, the participants highlighted the important role that Palestinian women can play for national reconciliation, took stock of the challenges to effectively implement the WPS agenda in Palestine, and formulated recommendations to strengthen women's role in reconciliation and peacebuilding, including for the establishment of a platform where Palestinian women leaders, holding diverse political views and across generations, can convene and strategize on how to increase women's participation in the Palestinian reconciliation process.
Participants also agreed on the importance of holding democratic and free elections as soon as possible, with at least 30 per cent quota reserved for women's representation. The importance of documenting the gendered impact of occupation on Palestinian women and girls and of holding the occupation accountable for women's human rights violations were furthermore highlighted. Female and male youth peacebuilders recommended stronger inclusion of youth in gender responsive peacebuilding and recovery efforts and systematic engagement with feminist organizations in pushing a gender equality agenda.
"Advancing the peace and security agenda in Palestine is challenging: no peace process, decades of occupation, discrimination, political and geographical fragmentation. In this context, Palestinian women are an untapped potential for conflict prevention and durable peace", stated Ms. Torunn Viste, Representative of Norway to the PA. "Norway is honoured to support the high-level dialogue on Women, Peace & Security in Gaza. Women's rights are human rights. Human rights are universal, not bound by culture, religion, geographical or political affiliation."
The State of Palestine's commitments to further the Women, Peace and Security (WPS) agenda through the adoption of a new National Action Plan (NAP) on WPS were also recognized. In 2016, Palestine was the second Arab state to adopt a NAP, recognizing the disproportionate impact of conflict and occupation on Palestinian women and girls and their vital participation in all aspects of peacebuilding.
Palestine adopted its second NAP (2020-2024) for the implementation of Resolution 1325 in October 2020. The National coalition on UNSCR 1325 led by the GUPW had also launched its 2021-2024 second generation strategic lobbying and advocacy plan by the end of 2020.
"We are committed to supporting the steadfastness of our people, particularly Palestinian women who continue to suffer because of occupation. UN Security Council Resolution 1325 is a very important framework to promote women's protection from occupation violence", said Ms. Intissar Al Wazir, Director of GUPW, commenting on the importance of the implementation of WPS commitments as articulated in national plans.
"Women's participation and leadership have been glaringly absent in both peace efforts between Palestine and Israel and those aiming to achieve intra-Palestinian reconciliation, rendering the success of both endeavours more elusive," said Ms. Maryse Guimond, UN Women Special Representative for Palestine. "Women are half of the population of the State of Palestine, and we must protect their fundamental right to take part in decision-making that affects them, their families and the future of their country. Their participation in peace and reconciliation processes brings outstanding advantages that unfortunately often remain overlooked."