Former President of Finland Tarja Halonen exchanges views on intergenerational and feminist peacebuilding perspectives in Palestine
Date: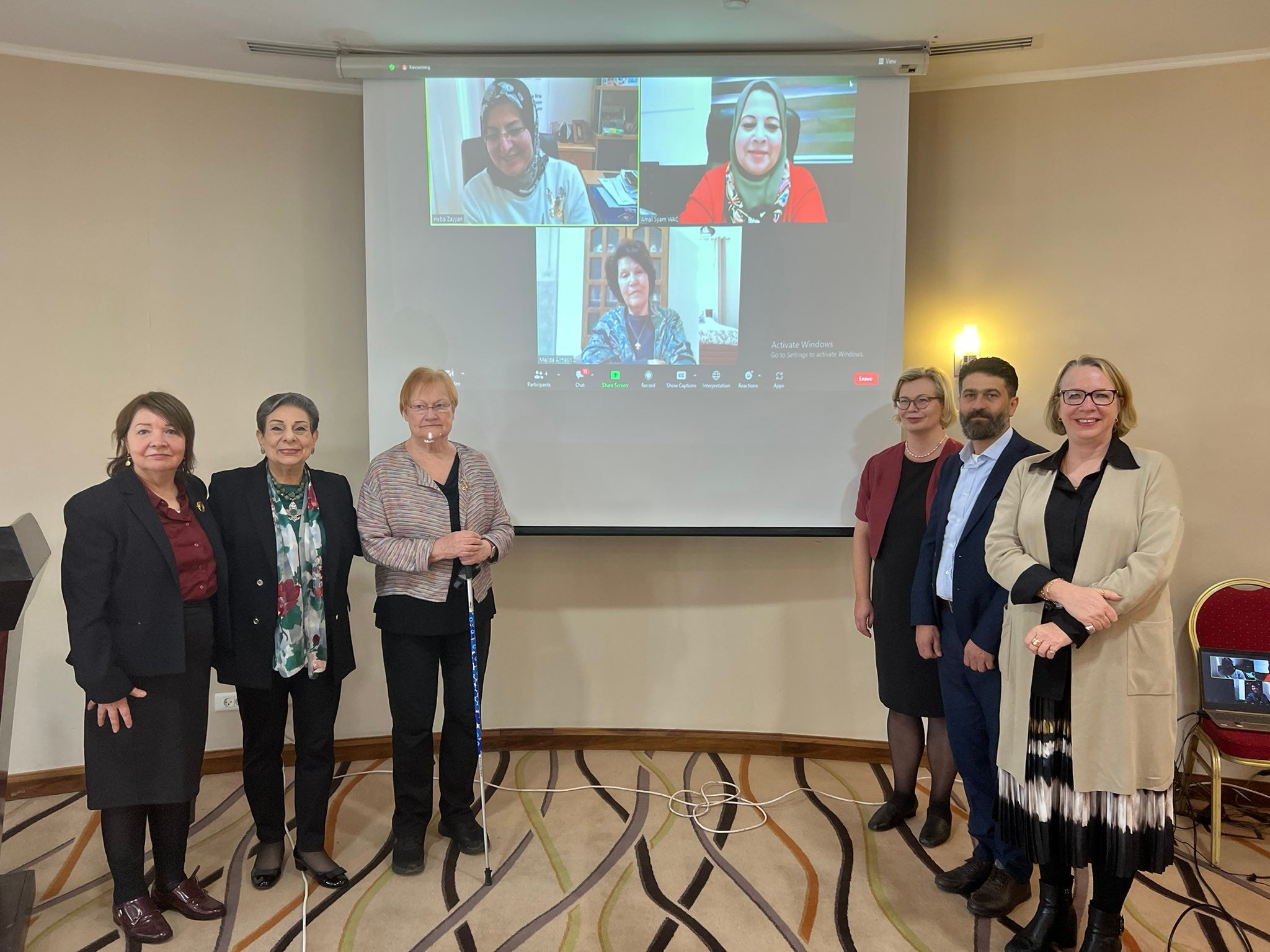 On 2 March 2023, on the occasion of the visit of Her Excellency the former President of Finland Tarja Halonen, the Representative Office of Finland to Palestine and UN Women Palestine Country Office held a roundtable on "New paradigms for new realities: promoting an intergenerational and feminist peacebuilding perspective in Palestine". The event took place in close-door format under Chatham House rules.
The objective of the event was to exchange frank and open views on the political and humanitarian situation in Palestine and reinforce the representation of women and feminist perspectives in political, decision-making and peace building processes. The roundtable gathered different inputs from a diverse and intersectional group of speakers.
President Halonen emphasised that gender equality is a human right and it is essential in building stable and resilient societies. "Cooperation among women and women's networks – such as this meeting – is important to promote empowerment of women and their meaningful participation to political and decision-making processes", said President Halonen, "your work is critical".
During the roundtable, participants reflected on how the political situation affects the society and gender equality in Palestine, on the new challenges faced by youth and feminist movements, what are the drivers of these challenges, and on how to ensure that all the different components of the Palestinian society are involved in political, decision-making and peacebuilding processes.
Maryse Guimond, UN Women Special Representative to Palestine, noted that: "At this critical juncture, we must ensure women's, including young women's, and young men's participation in political, decision-making and peacebuilding processes".
During the discussions, taking place during a period of heightened tensions and settlers' actions across Palestine, participants reflected on the overall precarious, fragmented, and uncertain situation of women-led and youth-led organizations in Palestine, whose work remains as important as it is challenging. Recommendations for the government, for Member States, and for the Palestinian civil society were identified. Participants also identified the need to continue supporting a credible Women, Peace and Security (WPS) agenda in Palestine.
"The recommendation expressed here are very important", concluded HE Päivi Peltokoski, Representative of Finland to Palestine, "I want to express my appreciation to Palestinian women and their continued resilience. Finland is committed to continue to work together with Palestinians for gender equality."
UN Women Palestine and Finland Representative Office will take stock of the event to inform their programmatic and policy interventions on WPS, and will ensure the recommendations will be shared and amplified with all relevant stakeholders (government, International community and civil society). Recommendations included: the organization and holding of free, fair and representative elections as soon as possible; the ratification of the Family Protection Bill; ensure accountability of the Israeli actions by the international community and end the occupation; better engage with men to change the narrative related to women's rights; push back against the hate speech from extremist religious and anti-rights groups.