After the May 2021 Escalation: A Multi-Sectoral Gender Needs Assessment in the Gaza Strip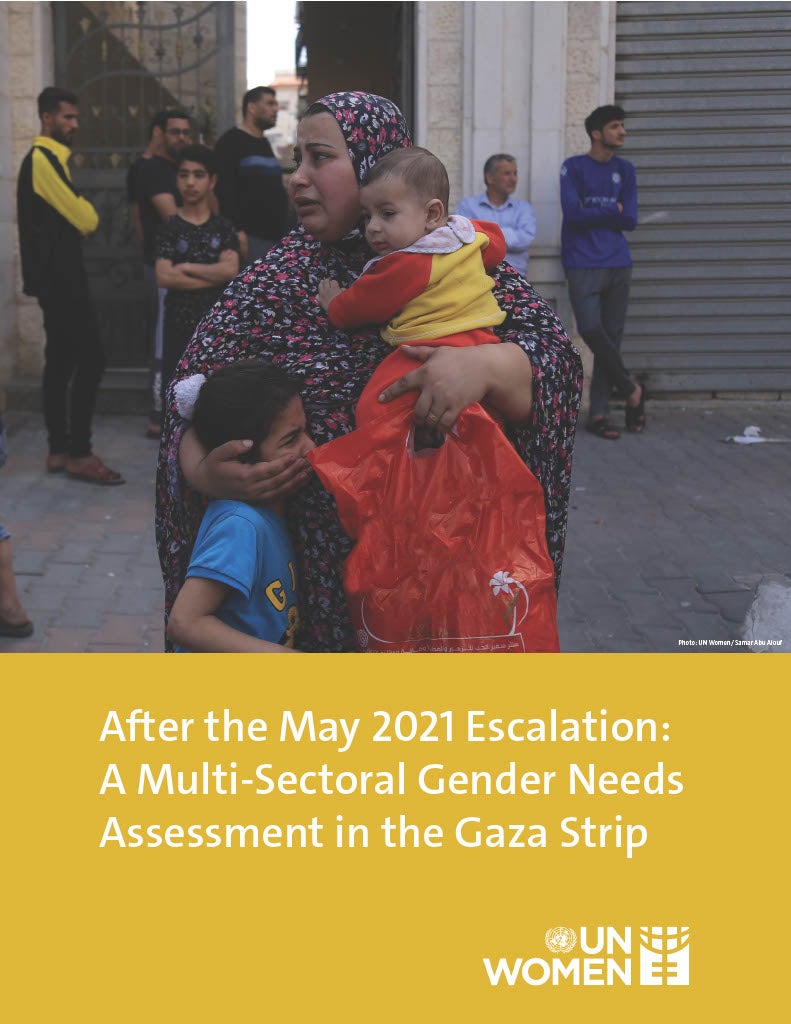 On 13 April 2021, the beginning of the fasting month of Ramadan, unrest began in East Jerusalem after the Israeli authorities installed metal barriers outside the Damascus Gate, blocking access to a public area for Palestinians. Although relative calm was restored with the removal of the metal obstacles on 25 April, tensions were also heightened by the Israeli authorities' imminent eviction of four extended Palestinian refugee families from their homes in the Sheikh Jarrah neighbourhood, located in occupied East Jerusalem. The United Nations Office of the High Commissioner for Human Rights (OHCHR) has stated that the evictions, if ordered and implemented, would violate Israel's obligations under international law. Palestinians held daily protests in Sheikh Jarrah in support of the families, triggering confrontations with Israeli settlers and Israeli security forces. Between 7 and 10 May, widespread clashes erupted across East Jerusalem, particularly around the Al Aqsa Mosque and the Damascus Gate. The heavy Israeli security presence amidst a large number of worshippers contributed to the tensions.
Palestinian armed groups in the Gaza Strip exchanged rockets with the Israeli army on 10 May in response to the unrest in East Jerusalem. Israeli forces carried out a large number of airstrikes. The hostilities continued for 11 days. According to United Nations human rights experts, the firing of missiles and shells by Israel into heavily populated areas of Gaza, particularly with the high civilian toll and severe property destruction, constituted indiscriminate and disproportionate attacks against civilians and civilian property, likely violating the laws of war and constituting a war crime. A ceasefire reached between Israel and Palestinian armed groups, entered into force on 21 May 2021 and has since held.
Against this backdrop, United Nations Women initiated this gender assessment of the impact of the May 2021 Israeli escalation and the resulting humanitarian crisis on women, girls, men and boys in the Gaza Strip. This assessment builds on the premise that people of different ages and genders experience conflict-related crises differently. As a result, their respective responsibilities and priorities are often dissimilar. The differentiated gender roles, needs, rights, and power relations between women and men influence their experiences with conflict, their coping methods, and priorities. Understanding these distinct experiences is key to the design and implementation of gender-responsive and rights-based humanitarian action. Highlighting sector-specific and multisectoral gender needs and priorities is also important to ensuring that humanitarian action is gender-responsive and equitable.
This assessment sought to address the following thematic areas: gender-specific needs and priorities in alignment with the existing humanitarian cluster focus; types of multisectoral gender needs for different groups post-crisis including women IDPs, widows, people with disabilities and adolescents; understanding how gender roles, power relations, and positioning between women and men determine their respective experiences of conflict, their coping methods, and their capacities or agency; access to services during and in the aftermath of the crisis and to what extent those services were gender-responsive; and gender-related protection concerns during displacement and in the aftermath of the crisis. To achieve that, this assessment adopted an intersectional approach taking into consideration the differences among groups of women, girls, men and boys, as well as various age cohorts. The assessment concludes with genderfocused recommendations for governmental and humanitarian actors.
View online/download
Bibliographic information
UN Women office publishing: Palestine Country Office