Economic empowerment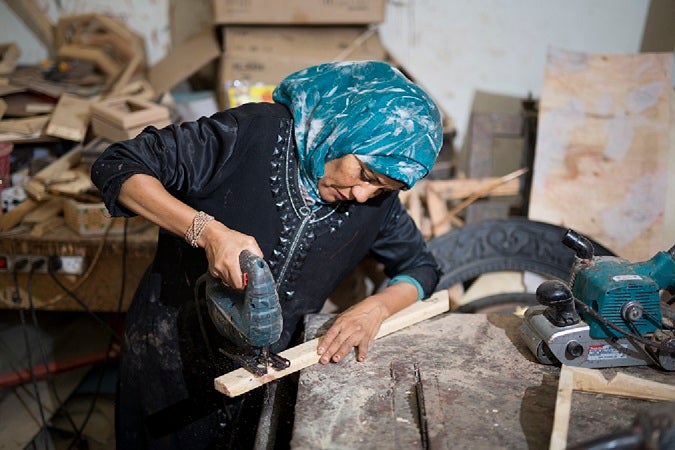 Photo: UN Women
Women in Palestine not only have fewer opportunities to access employment but also are less likely to set up their own business than men.
The gender disparities of the labour force participation in Palestine are largely linked to an exceptional economic, social and cultural system and contexts, along with a lack of a supportive environment for women's entrepreneurship. Much of the female labour force concentrates in low-skilled, non-sustainable and low-income generating economic activities including part-time, seasonal and casual work. Additionally, due to a lack of non-traditional vocational and technical training and inadequate alternative sources of financing, a large number of Palestinian women are discouraged from setting off their own business.
Our Solutions
Under its strategic area of "Women have income security, decent work and economic autonomy", UN Women promotes women's economic empowerment, placing special focus on the below priorities:
Increasing efforts on removing the structural barriers that prevent women from having equal access to economic opportunities and decent work conditions;

Expanding and deepening the partnership with the public sector towards developing gender sensitive policies that promote women's economic empowerment;

Working with actors from civil society and private sector to strengthen their commitment to advocate for a gender responsive legislative and policy framework that promote decent work and economic opportunities for women;

Enhancing the access of women entrepreneurs to improved and market-based business skills training and learning opportunities.
UN Women's approach promotes Palestinian women's economic empowerment (WEE) by addressing constraints that operate at the individual level in order to disempower women and entrench gender inequalities in society. At the same time, while a woman's agency might be individually held, it is created and supported by collective action; the programme is focusing on assisting women organizing themselves and in establishing networks and associations that represent their interests. UN Women supports more gender-sensitive national policies and frameworks aiming at promoting women's equal access to economic opportunities and decent work in Palestine.
Download a two-page thematic brief on UN Women's work on economic empowerment.