Press release: UN Women Palestine announces the youth members of the Gender Innovation Agora- Palestine (GIA)- Palestine Chapter
Date: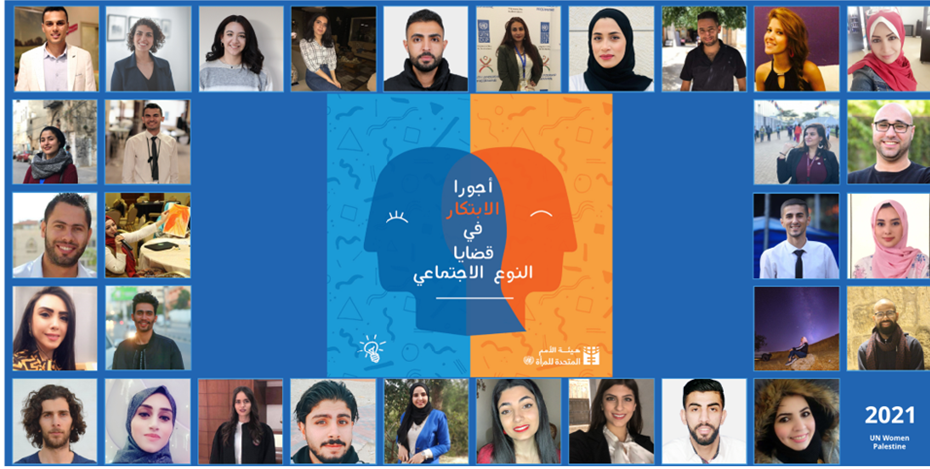 Palestine, 10 January 2021 - UN Women Palestine announced the first cohort of Gender Innovation Agora (GIA) a consultative forum and platform for regular dialogue and advocacy around gender with youth in Palestine. 31 young leaders from Palestine were selected for their leadership and demonstrated contribution to promote gender equality and the empowerment of women and girls.
The GIA is constituted from youth advocates, civil society professionals, business innovators and social media influencers to provide expertise on youth and gender issues, inform innovative solutions and campaigns, encourage the mobilization of young people and facilitate the dissemination of information to networks and organizations around Palestine.
UN Women's Palestine Office Special Representative, Maryse Guimond, welcomed the announcement of the new cohort, remarking that "working with youth is one of the critical drivers for accelerating progress on gender equality. UN Women Palestine Office is proud to work with the selected young men and young women and empower them as partners in achieving gender equality."
Selected from over 60 applications, the new GIA members will support efforts to engage young people, feminist movements, civil society and students in the Generation Equality movement to develop initiatives support the implementation of Sustainable Development Goal 5: achieve gender equality and empower all women and girls.
Selected Candidates for 2021 cohort:
| | |
| --- | --- |
| Ahmed Yasin | Khaled Abu Jame |
| Alaa F Ashour | Khalil Salem Abu Lehia |
| Areen Muaddi | Lama Jamil Al-Haj Aref |
| Aya Alzebda | Mohamad Abu Samra |
| Ayah Abu Mayaleh | Mustafa Al-qut |
| Bilal Ghrouf | Nadeen Kort |
| Bissan A. Ouda | Osama Naim |
| Bylasan | Saif Hamarsha |
| Enas Abu Sitta | Samar Saleh Thawabteh |
| Enas Dajani | Sarah Elmzainy |
| Euday Alhasanat | Suhaib Abdat |
| Farah MI Selmi | Suzan M. Attallah |
| Fouad Hisham Abdel Aziz Abu Fannouneh | Tamara Altibi |
| Hanin Abu Ghosh | Tamara Malouf |
| Haya Mohammad | Yasmin Attoun |
| Izz Aljabari | |
Read in Arabic.