In the Words of Asma' Sweirky: "I am proud that I am able to economically empower myself and other women and youth through my business "Asala for vinegar products".
Date: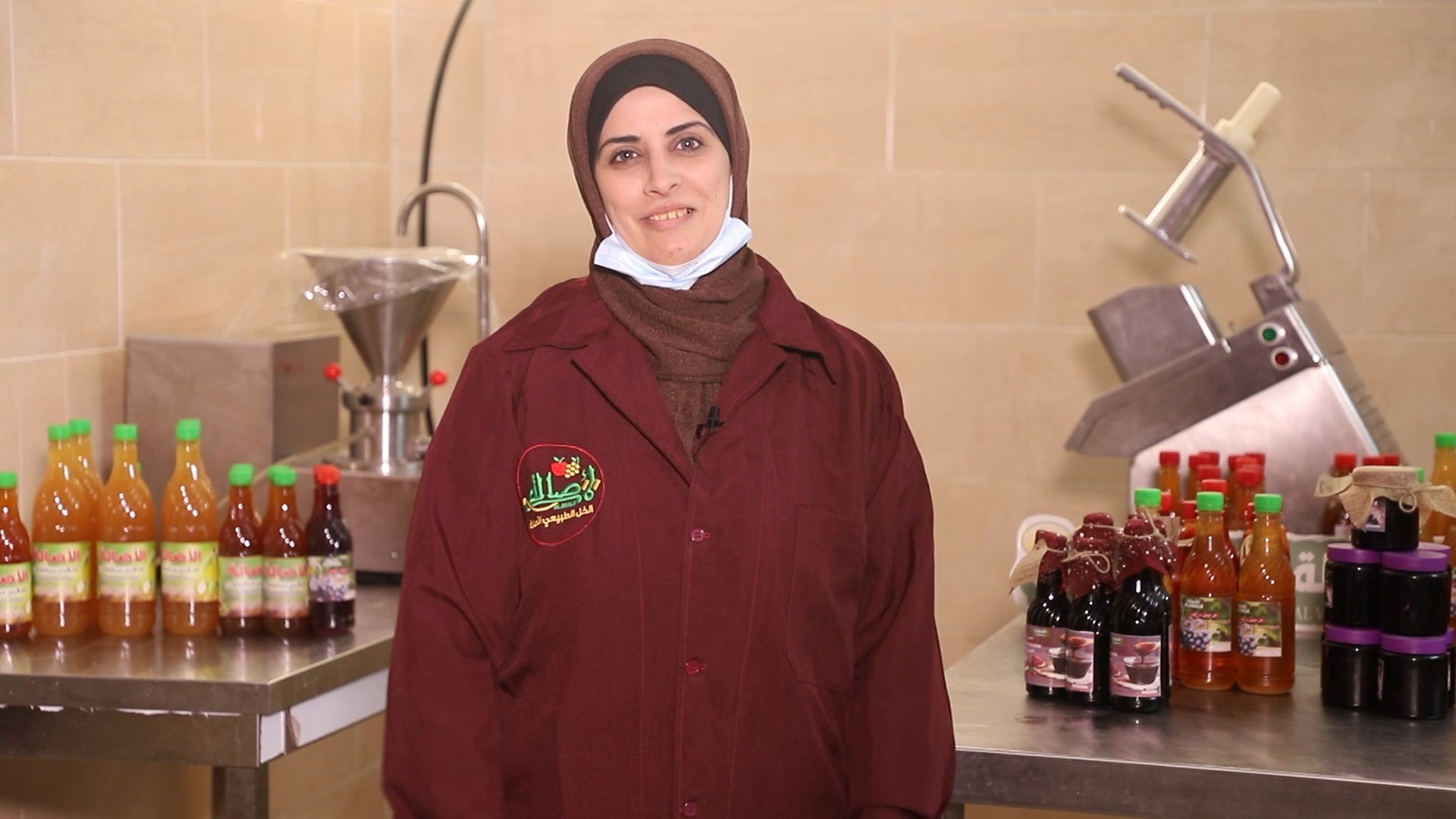 Asma' Sweirky, a 29-year-old entrepreneur from Gaza, holds a master's degree in Chemistry, and the founder and owner of "Asala for vinegar products". She employs a number of women, who are the main breadwinners of their families, and who come from low-income background, widows, divorced and survivors of violence.
"I started my business combining both my educational background and my passion to produce natural food products. We make natural vinegar products using apple, grape, garlic, ginger and thyme vinegars, without any preservatives and chemicals. This made our products more competitive in the limited vinegar market in Gaza" says Asma'.
Since there are very few job opportunities in Gaza for young women, this business helped Asma' to be economically independent, and assist her family financially. As a business owner, Asma' feels that she has a better position in her community.
"I started this business with one product only, apple vinegar, selling my products to family and friends. My business was registered in 2018. The demand started to increase gradually, and so did my production and supply. The rising awareness among people in Gaza to use natural and organic products helped in growing the market demand, especially after the Covid-19 pandemic", Asma' added.
"I am thankful for the Ministry of National Economy, UN Women, and the Ministry of Women's Affairs, for their support and reaching out to women entrepreneurs in Gaza" said Asma'. "The equipment I received played a key role in supporting the sustainability of my business, increasing its production capacity and my team by one woman employee.
Asma' added:" I have now four full time and 9 part time employees (seasonal workers), and all are women, including one woman with disability. Additionally, my business' profits increased by 20 per cent, its network has four new organizations, and the sales points increased from 12 to 18. I am happy that I was able to open a bank account which has facilitated my work with the suppliers. We needed this kind of support, especially after the last war on Gaza and the Covid-19 Pandemic, which had a negative impact on our business".
Asma' is aspired to grow her business into specialized production facility and a factory to generate more jobs for women and export the products to other markets inside and outside Palestine.
"I hope I can be a positive role model for young women", said Asma'. "I encourage all young women and men to start and to grow their businesses and pursue their dreams. In order for young women to empowered economically and socially, they need to invest in their full potential, and not be affected negatively by the community".  
Asma' is one of the women beneficiaries of the in-kind grants, provided by the Ministry of National Economy, through the Women Economic Empowerment (WEE) Fund, funded by UN Women, through the Joint Programme "Mitigating the impacts of COVID-19 on women's economic participation in the State of Palestine", thanks to the contributions by the Government of Norway to the UN Response and Recovery Fund.