Working with judges to improve outcomes for women in Sharia courts
Date: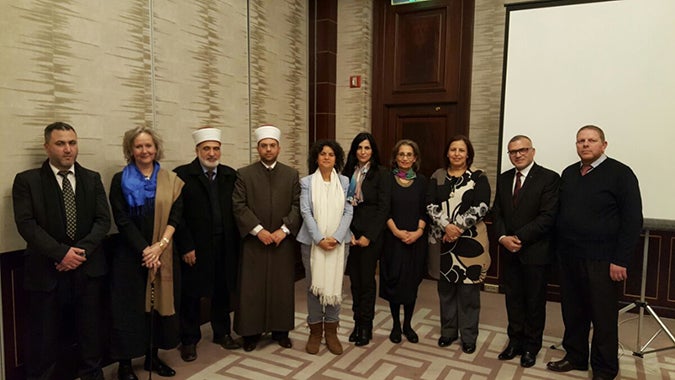 Haya* was sitting in a hospital to be treated for her injuries when she decided that as much as it would cost her, she could no longer bear daily abuse for the sake of holding her marriage together. With her medical report in hand, she went to the police and filed a complaint against her husband, before going to the Shari'a Court to request from him separation and monthly alimony.
In Palestine, the Shari'a court deals with family matters codified in the Personal Status Law relating to marriage, divorce, child custody, and inheritance; all issues which have significant and disproportionate impacts on women's lives given existing gender inequalities and power imbalances in Palestinian society. Shari'a courts hold a high-level of trust among Palestinians,[1] including women, despite the lack of substantive equality offered to them in the framework of the Personal Status Law. Women face both social and legal barriers to requesting divorce or custody of their children; the social norms around marriage, divorce, child custody and inheritance are as large an obstacle as the actual laws.
To discuss the challenges and dilemmas faced by judges in regards to gender responsive adjudication, UN Women and Musawa[2] convened a meeting on 9 February 2017 between Shari'a judges from Palestine, and international experts on new directions in Islamic legal thought. The meeting aimed at initiating discussions on challenges in adjudicating cases of marriage, divorce, child custody and inheritance in a way that recognizes the changes in the situation of women in modern times. It also identified opportunities and methods judges use to respond to needs of women in the Shari'a courts.
"As Shari'a judges, we feel sometimes confused and unsatisfied with the rulings that we issue in cases related to women's rights" said a Shari'a judge at the meeting, "in many instances, we are convinced that the rulings we take do not respond to women's and children's needs and best interests, however, we issue them because we cannot go against the law."
The meeting rested on enhancing understanding of the concept of fiqh, which refers to human interpretation of the intention of divine laws, and the difference between fiqh and Shari'a. Contrary to popular belief, interpretation and adjudication according to Shari'a law has evolved over time and place. Islamic legal thought experts at the meeting provided notable examples of change in Muslim legal traditions in relation to the promotion of gender equality which was most notable in the different versions of family laws in some of the Arab countries, for example from Morocco, Tunisia and Algeria, and how key concepts have changed over time.  
According to a UNDP/Birzeit University survey, 80% of Palestinians would like a change in the Personal Status Law. More than 50 per cent of female respondents and 25 per cent of male respondents want to see specifically a reform in the law to improve women's substantive equality in family matters[3]. Since 2014, UN Women, under the Rule of Law Joint Programme, has supported provision of legal aid to women in Shari'a courts. Working in parallel to legal aid provision by engaging  the Shari'a judges to enhance gender responsive adjudication is a crucial step towards achieving UN Women's goal of improving women's fulfilment of their human rights and access to justice.
---
*Name changed to protect her identity

[1] Penny Johnson & Rema Hammari (2013). Change & Conservation _ Family Law Reform in Court Practice and Public Perceptions in the Occupied Palestinian Territory. UNDP, Birzeit University.
[2] Musawa is a global movement for equality and justice in the Muslim family, which advances human rights for women in Muslim contexts, in both their public and private lives.
[3] Penny Johnson & Rema Hammari (2013). p.09