In the words of Jafra Nasser: "Working and raising my kids on my own in Gaza was arduous, but doing so under bombardment is indescribable"
Date: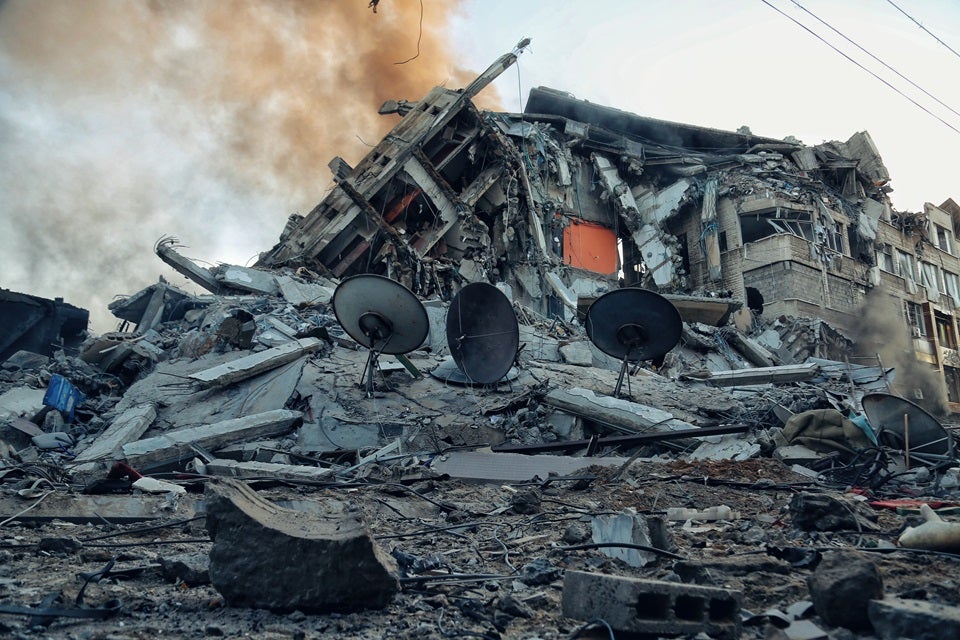 Jafra Nasser, 28, lives with her daughter Leen and son Omar, three and two years old respectively, in the town of Beit Hanoun, northern Gaza. She has a degree in nursing and works at the Ministry of Health. Unable to find a job in the Strip, her husband, a doctor, left for Germany three years ago and has been receiving training and hospital experience, in the hope of finding a job and filing for family reunification soon. Due to COVID-19 restrictions, he has not been able to return to see his family.
The recent Israeli bombardment of Beit Hanoun has resulted in massive destruction of infrastructure and homes, displacement of its residents and the death and injury of many civilians. Jafra managed to flee with her young children to the nearby town of Beit Lahiya where her parents live. She was fortunate to find shelter. According to the United Nations Office for the Coordination of Humanitarian Affairs (OCHA), as of May 20, the violence in Gaza has resulted in the displacement of over 75,000 civilians. Some 47,000 people are taking refuge in schools across the besieged Strip, raising concerns about the transmission of COVID-19 among vulnerable people huddled in crowded shelters.
"Since my husband left for Germany, life has not been easy on me. Raising my two little kids on my own in Gaza while working full-time has been very taxing. But these challenges pale in comparison to being a mother during war. Since the Israeli strikes against our neighbourhoods started, the situation is calmer during the day, and intensifies dramatically during the night. On average, the electricity comes on for only two to three hours a day. It is terrifying to be under bombardment in total darkness.
The night the bombardment escalated, all the women and kids in my building gathered in a lower apartment that we thought was safer while all the men were in the apartment above. Deafening sounds of bombings started getting closer and closer. Children were scared and clinging to their mothers. At around 3:00 a.m., a building nearby was struck. We started screaming and crying. We were all terrified. We looked outside, and there were a lot of people running from their homes. We decided to run before it was too late. Each adult grabbed a child and a bag of essential necessities for children and first-aid kits that we had already packed and left by the door. We had learned from previous wars how important these little things are. We ran in the streets, dodging strikes. There was destruction everywhere. Many families were not notified or did not manage to leave their home in time and were under the rubble.
We walked for half an hour in the dark. When we got further from the flashpoints, a family opened their door and invited us to take shelter in their house until dawn. When the sun rose, I called my family and asked them to meet me halfway. They also had been displaced to my uncle's house. Now, we all sleep there. My sister, who lives with my parents, is in a wheelchair and we always need a car nearby in case we have to run.
I had never been as terrified as I was that night. It was indescribable. I could not stop sobbing and trembling. People were telling me to pull myself together and be strong for my children. But I couldn't. I have lived through three wars. But nothing compares to enduring war as a mother with children to protect. I feel psychologically destroyed and unable to take responsibility for my children and protect them from the violence.
Every day we hear that there will be a ceasefire tomorrow. But we can't even be sure that we will be alive the next hour. Every morning we wonder if we will make it to the end of the day.
The health system is collapsing, and I am supposed to go to work and help out. But I can't leave my children. I called work and told them that if they absolutely needed me, I would take my kids with me. I cannot leave them in this volatile situation. They are constantly scared and glued to me now. They cannot go to the bathroom on their own or sleep in a different room anymore. I do my best to reassure them and make them feel safe. I keep telling them that the strikes sound close, but that they are far in reality.
All I want right now is for my children to survive this war without being traumatized for life. It is time that we have moved beyond this violence, horror and destruction and let the sense of humanity prevail. Every time I see happy kids on TV, I tell myself that this is the life I want for my children. As soon this war stops, my husband and I hope to reunite."