Gender-responsive cash and voucher assistance is key to inclusive and sustainable development in Palestine, UN Women says
UN Women and WFP organize online discussion on role of gender-responsive cash and voucher assistance in enhancing women's protection and resilience
Date: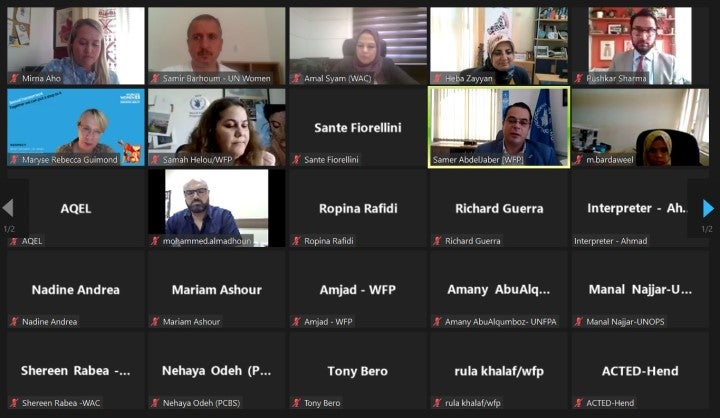 More than 50 representatives of UN agencies, civil society organizations, donors and other stakeholders took part in an online roundtable discussion on Wednesday 25 August 2021 to tackle the role of gender-sensitive cash and voucher assistance in responding to the needs of the whole population in Palestine, leaving no one behind.
Coupled with health, protection and education support, cash and voucher assistance can be an important tool to help conflict-impacted Palestinians, particularly women, to gain new skills while increasing their income, according to speakers in the discussion.
The discussion was organized jointly by UN Women and United Nations World Food Programme (WFP) on the occasion of World Humanitarian Day to launch a Guidance Note on Gender-Responsive Cash and Voucher Assistance in Palestine, prepared by UN Women Palestine Country Office.
"Global, regional, and local research has demonstrated how gender-sensitive cash and voucher assistance can bolster women's social protection and development," said Pushkar Sharma, key researcher of the guidance. "It has the potential to create economic opportunities, build women's resilience and independence and combat gender-based violence."
Developed by UN Women with generous support from the Government of Japan, the Guidance Note details practical tools and recommendations to guide development partners in the implementation of high-quality and gender-responsive cash and voucher assistance interventions.
"Women and girls often bear the brunt of conflict due to pre-existing gender inequalities," said Maryse Guimond, UN Women Special Representative in Palestine. "When women and girls have fair and equal access to resources, they can meaningfully participate in and influence decision-making processes. This makes them less vulnerable to sexual exploitation and negative coping strategies, such as child marriage or forced labour."
"Given the growing importance of cash-based interventions, the centrality of gender equality to sustainable development and resource scarcity, it's crucial that our cash assistance is guided by evidence-based and reliable information," said Samer AbdelJaber, Country Director and Representative of the UN World Food Programme in Palestine.
"The protracted humanitarian situation has aggravated poverty in Gaza, particularly among vulnerable women," said Amal Syam, Director of Women's Affairs Center in Gaza. "Cash for work is one of the most important economic interventions provided for vulnerable women survivors of gender-based violence to support them and enhance their resilience through reducing their economic hardships."
For more information, please contact: Samir Barhoum, email: samir.barhoum@unwomen.org