16 Days of Activism against Gender-Based Violence against Women and Girls launched in ancient town of Sabastiya
Cologne Mobile Exhibition tells stories of women survivors of violence in 16 Palestinian towns and villages
Date: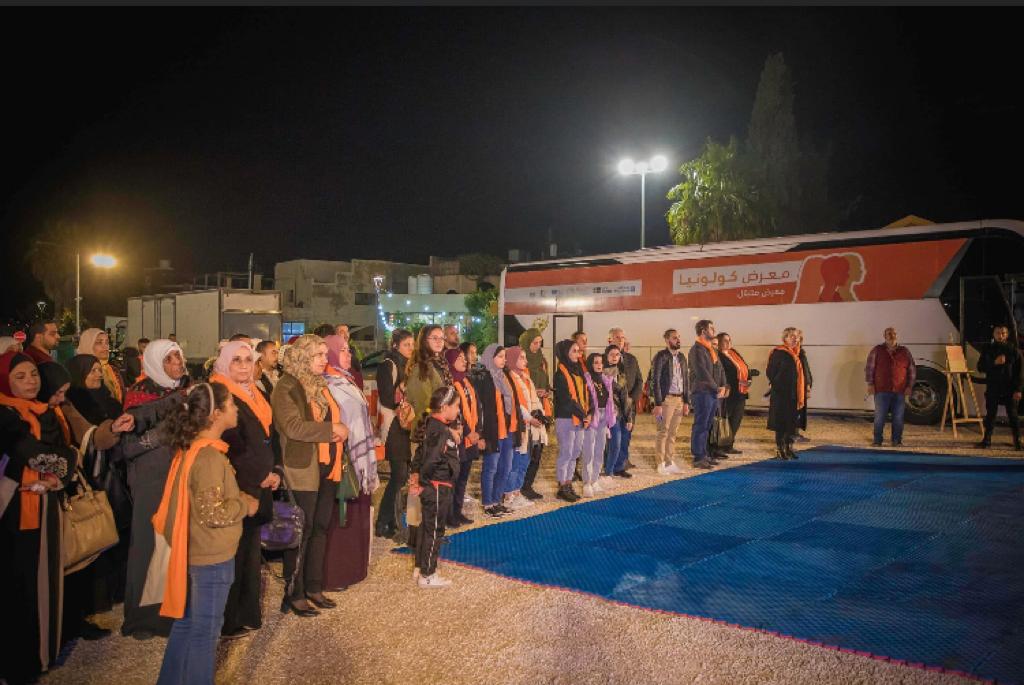 Sabastiya, Palestine - As part of the launch ceremony of the 16 Days of Activism against Gender-Based Violence Against Women and Girls, a mobile exhibition titled "Cologne Mobile Exhibition" was opened on Thursday 25 November in the West Bank town of Sabastiya.
The exhibition is scheduled to tour 16 towns and villages in the West Bank and the Gaza Strip to share stories of Palestinian women who were exposed to various types of violence. It features various items that embody the stories of 16 Palestinian women survivors and victims of violence. A total of 16 women shared their stories on the bus designed specifically to act as a mobile exhibition which will tour eight locations in the West Bank and a similar number of locations in the Gaza Strip.
The bus exhibition features activities such as discussion sessions with the public about gender equality and the distribution of awareness-raising brochures on the available services for women victims of violence and calling for the elimination of violence against women and girls.
The exhibit was named Cologne after the title of one of the stories narrated by a woman who was suffering harassment by one of her male teachers. "I used to feel sick and disgusted, especially of the smell of his cologne in the class," the woman recalls in the story.
The exhibition was designed and implemented in coordination with UN Women's Palestine Gender Innovation Agora, which is a consultative forum and platform for regular dialogue and advocacy around gender with youth in Palestine. Palestine Agora, established in January 2021, consists of 31 young women and men (advocates, civil society professionals, business innovators and social media influencers) who provide expertise on youth and gender issues.
It is one of many other activities marking the 16 Days of Activism against Gender-Based Violence, which is a global campaign held in all countries of the world in the period 25 November, which is the International Day for the Elimination of Violence against Women, and 10 December, Human Rights Day.
In this year's campaign in Palestine, around 100 entities, including civil society organizations, private sector, government departments, UN agencies and donors, join efforts to work together to end gender-based violence.
UN Resident Coordinator for the occupied Palestinian territory Lynn Hastings said that gender-based violence is not a problem solely for Palestine as women and girls all over the world face this problem, emphasizing that authorities all over the world have a crucial role to play in ending all forms of violence.
"As difficult as the topic may be, talking about it openly, starting conversations with men and boys, and acknowledging the problem is a start," Ms. Hastings said in a recorded video message, expressing hope that the 16 Days of Activism will prompt men and women, politicians and civil society, teachers and students, among others, to tackle this problem.
The opening of the exhibition in the ancient Palestinian town of Sabastiya comes in collaboration with the town's municipality. Other cities and towns which will host the bus exhibition include Ni'lin, Qatanah, Nablus, Battir, Bithany, Hebron, Gaza City, Khan Younis, Rafah and Jabaliya.
Sabastiya Mayor Motasem Alawi addressed the opening ceremony by expressing pride in having his town host the launch of this year's nationwide 16 Days of Activism campaign. "I am very proud that this campaign against gender-based violence is being launched from my town, Sabastiya, a well-known tourist attraction visited by many women and men from all over the world. I am also proud to say that the women of Sabastiya work alongside men in the service of their town and municipality, with the full support of the municipal council."
"The 16 Days of Activism against Gender-Based Violence gives the chance to all state institutions to join efforts to end violence against women and safeguard their rights through all available means, in addition to guaranteeing their participation at all levels in political, cultural, economic and social fields," Mohammad Bsharat, director of the Nablus Directorate of Social Development, said at the launch ceremony.
The exhibition is supported by the Government of Sweden and the Swiss Cooperation Office in the West Bank and Gaza.
Marie Gilbrin, Director of Cooperation, Swiss Cooperation Office of Gaza and West Bank, said: "With all the sad stories we hear indicating the growing of GBV cases in the occupied Palestinian territory, a family protection law is a key instrument to combat GBV".
UN Women Special Representative in Palestine Maryse Guimond called for immediate measures by the government an end to violence against women and girls that is practised in various forms, including femicide, and called for prioritizing services to survivors.
"It is imperative that services to survivors of violence are prioritized by the government. Adequate budget and resources should be allocated, to ensure that survivors of violence are protected, empowered, and reintegrated," Ms. Guimond said.
"Let us not meet again in a year, to count additional women killed or beaten by their loved ones. Let us work to end violence against women and girls," she emphasized.
To shed light on the problem and call for concerted efforts to fight it, numerous activities are taking place as part of this year's campaign in Palestine, including social media campaigns, workshops, theatre and circus shows, as well as well as lighting of buildings in orange during the 16-day campaign.
The colour orange is the official color of the global campaign as well as that in Palestine. It is a constant theme running through all of these activities in every part of the world, as a symbol of a bright and optimistic future free from violence against women and girls.
On 25 November, the archaeological site of Sabastiya was lit in orange, along with buildings of various partners in Palestine, including the Hebron Courthouse, UNRWA's field office in Gaza, the Austrian Representative Office to Ramallah, the British British Consulate General in Jerusalem, the Italian Agency for Development Cooperation, and the Representations of Denmark, Australia, Finland and Lithuania in Ramallah. More sites will be lit as of 29 November in Gaza.