One-Stop Centre for Women and Children Survivors of Violence Open in Hebron
Date: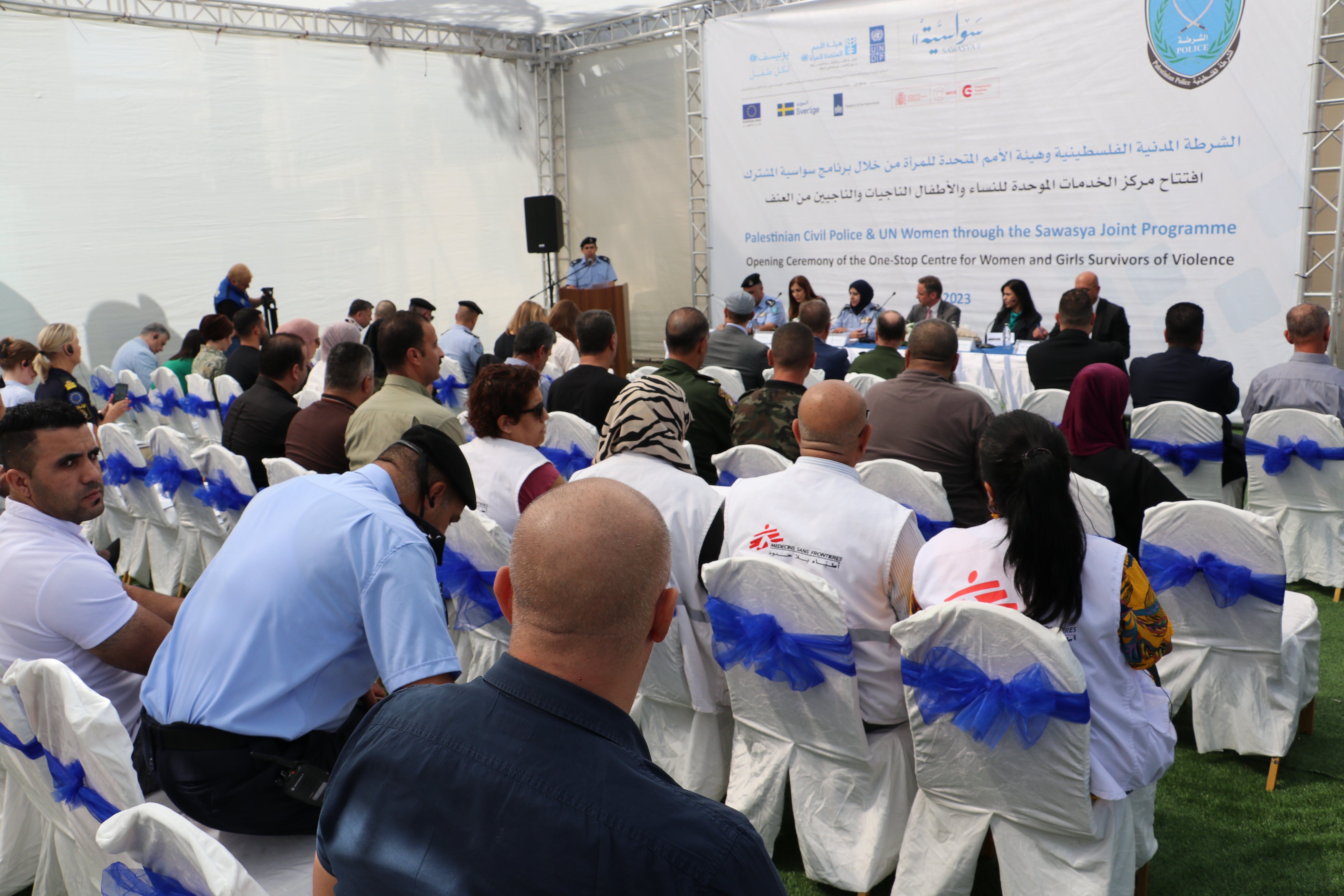 Hebron | The Palestinian Civil Police, in partnership with UN Women Palestine through the Sawasya II UN Joint Programme, opened its second One-Stop Centre in Hebron today to enhance access to justice, ensure the provision of timely protection, and maintain privacy and dignity for women and children's victims and survivors of violence.
The opening ceremony was held in the presence of Brigadier Wafa Muammar, Director of the Family and Juvenile Protection Department on behalf of Major General Yousef al-Helou, Chief of the Palestinian Civil Police, Ms Hanan Kamar, the UN Women Palestine Sawasya Joint Programme Specialist, Mr. Thomas Kirchner, European Union, Head of Section, Chief of the Family Protection Prosecution, Mr. Fuaad Awawdah, Head of the Halhul Prosecution, Ms. Heba Jebat Head of the Women and Gender Unit in the Ministry of Social Development, and several representatives of the security, justice, government, civil society, and international institutions.
According to the statistics released by the Family Protection and Juvenile Department for the first half of the year 2023, a total of 2,600 family cases approached the OSCs in the West Bank and received services. Among these, a total of 430 cases approached Hebron OSC making it the second-highest case intake after the Nablus One-Stop Centre.
In Hebron, women and children's victims and violence survivors can access multi-sectoral essential services in one location through the newly launched One-Stop Centre. These services are provided through key partners including the Ministry of Social Development, the Public Prosecution, and the Ministry of Health among others.
The Family Protection and Juvenile Unit within the Palestinian Civil Police administers the One-Service Centre., The One-Stop Centre results from long-standing efforts put forth by the Palestinian government, civil society, and women's organizations to support essential and quality multi-sectoral services for women and children.
During the launching, Mr. Fouad Al-Awawda the Head of the Hebron Prosecution, stressed the importance of this centre, saying" The Public Prosecution attaches great importance to the target groups of this centre, which will provide service to all of Hebron Governorate through its four prosecutors. The Public Prosecution is fully prepared and ready, seven days a week, to attend and take measures in the courts. Of importance, or whenever circumstances require, the Public Prosecution will also make known visits confidentially and privately to preserve human dignity. Therefore, the Public Prosecution has paid great attention to children, disabled women, people with special needs, and the elderly within its strategies, thus establishing specialized prosecutions to enhance protection for all members of society, especially women, girls, and children."
On her behalf, Ms. Heba Jebat, Head of the Women and Gender Unit at the Ministry of Social Development, praised the police force for their vital service to Palestinian citizens, particularly in protecting women and children. She stated, "Our mission is to protect, nurture, and rehabilitate women, girls, and children following national protocols in partnership with relevant institutions and the justice sector. We aim to create a violence-free environment that provides unwavering support through community programs and rehab initiatives in various institutions and care facilities. The Ministry also strengthens family bonds, considering their primary educational institutions. This centre's opening is a milestone, improving access to comprehensive services under one roof, and ensuring quality, privacy, and confidentiality for each case. Such centres facilitate access for women and children affected by violence within a safe environment."
Since 2008, UN Women has been working with the Palestinian rule of law institutions to improve their technical capacities to meet rightsholders needs mainly women and children. In that regard, Ms. Hanan Kamar, UN Women Palestine Sawasya programme Specialist stated that UN Women and its partners are committed to ending violence against women and children and increasing the reporting and prosecution of abuse cases: "We believe that the One-Stop Centre model's success lies in providing comprehensive services for women and girls with specialized, well-trained staff from different sectors working together while ensuring privacy and confidentiality. This proves that we can overcome the complicated and lengthy procedures coupled with societal stigma, and pressure from community and family which often deter women from reporting domestic violence".
Mr. Thomas Kirchner, the European Union's Head of Section, extended appreciation for the collaborative efforts, stating, "The European Union is committed to preventing and addressing gender-based violence through our 2020-2025 gender equality strategy. One-stop centres, like the one inaugurated today, provide vital support and refuge for women and children, thanks to specially trained professionals. Effective coordination among various stakeholders, including the police, prosecution services, and health providers, has successfully assisted many victims of violence among women and children."
In conclusion, Brigadier General Wafa Muammar, Director of the Family and Juvenile Protection Department at the Palestinian Civil Police, expressed gratitude at the end of the launch. She thanked attendees, international supporters, and partners. Brigadier General Muammar affirmed the police institution's commitment to raising community awareness about the One-Stop Centre's services. She stated, "We understand the substantial workload and the sensitive nature of the issues we handle, whether related to domestic violence or legal conflicts. This demands our dedication, discipline, and shared responsibility within the police sector. Opening new unified service centres to address gender-based violence issues is a commendable effort to enhance the services supporting abused women. Our sincere thanks go to UN Women in Palestine for their invaluable interest and to all the dedicated organization staff who tirelessly contribute to this significant national achievement in support of Palestinian women."
Media contacts:
Sawasya the Joint Programme for (UNDP, UN Women and UNICEF) : Fidaa Maaytah, Sawasya II Communication Coordinator, +970 59 3020 717, fida.maaytah@undp.org