The Central Election Commission and UN Women sign an agreement to enhance women's political participation
Date: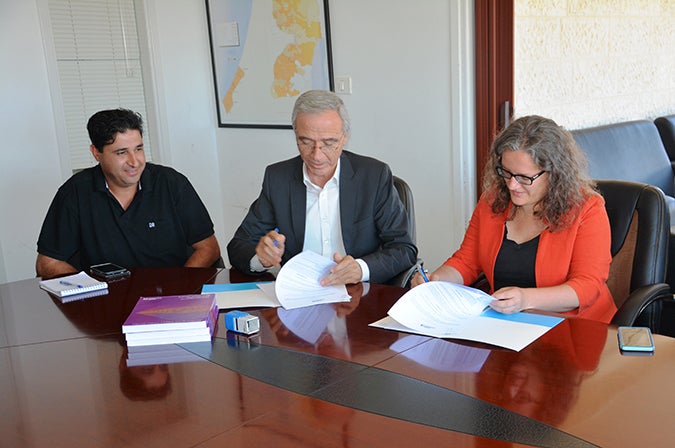 Marking a new step towards establishing a strategic partnership to enhance Palestinian women's political participation, the Central Election Commission and UN Women signed an agreement in Ramallah, on 18 June 2015 for a 2-year joint project, funded by the Government of Norway.
The project aims to empower women in local communities and enhance their role in decision-making processes and influencing the development of their communities. Through trainings, grants and awareness campaigns, the project will support reinforcing the capacity of elected women in local councils to effectively play a role, while contributing to changing perceptions of women in the political arena and mobilizing both men and women to increase women's representation in decision making. Among the key interventions of the project is to develop a comprehensive national framework of action to promote women's participation and leadership in the political and public spheres.
Mr. Hisham Kuhail, the Executive Director of the Commission, praised the agreement, which "reflects and translates in concrete terms the importance the Commission gives to the participation of women in elections."
While women's participation has significantly increased in Palestine in the past years, their representation remains low. Women continue to face obstacles due to the political context, economic barriers, as well as traditional social norms and perceptions on women's political and civic engagement.
For Dr. Sabine Machl, the Special Representative of the UN Women in Palestine, "the pressing need for women's empowerment calls for increased participation and promotion of women's political participation and leadership, mainly in local councils. The strong partnership between UN Women and CEC, as well as with others national partners under this project aims to bring about this change."
Under the project, CEC and UN Women will work jointly to tackle challenges facing women's political participation through this off-elections intervention, starting with developing a coherent and comprehensive national strategy to enhance women's presence and role in decision-making. In parallel, the project will support the empowerment women and future female leaders in local communities through providing small grants for local initiatives proposed by women's groups in selected local communities, influencing media and enhancing social awareness to promote women's political participation and increase their active role in decision-making.