In the Words of Bisan Owda "Content Creation is an Effective Tool to Advance Gender Equality in Palestine"
Date: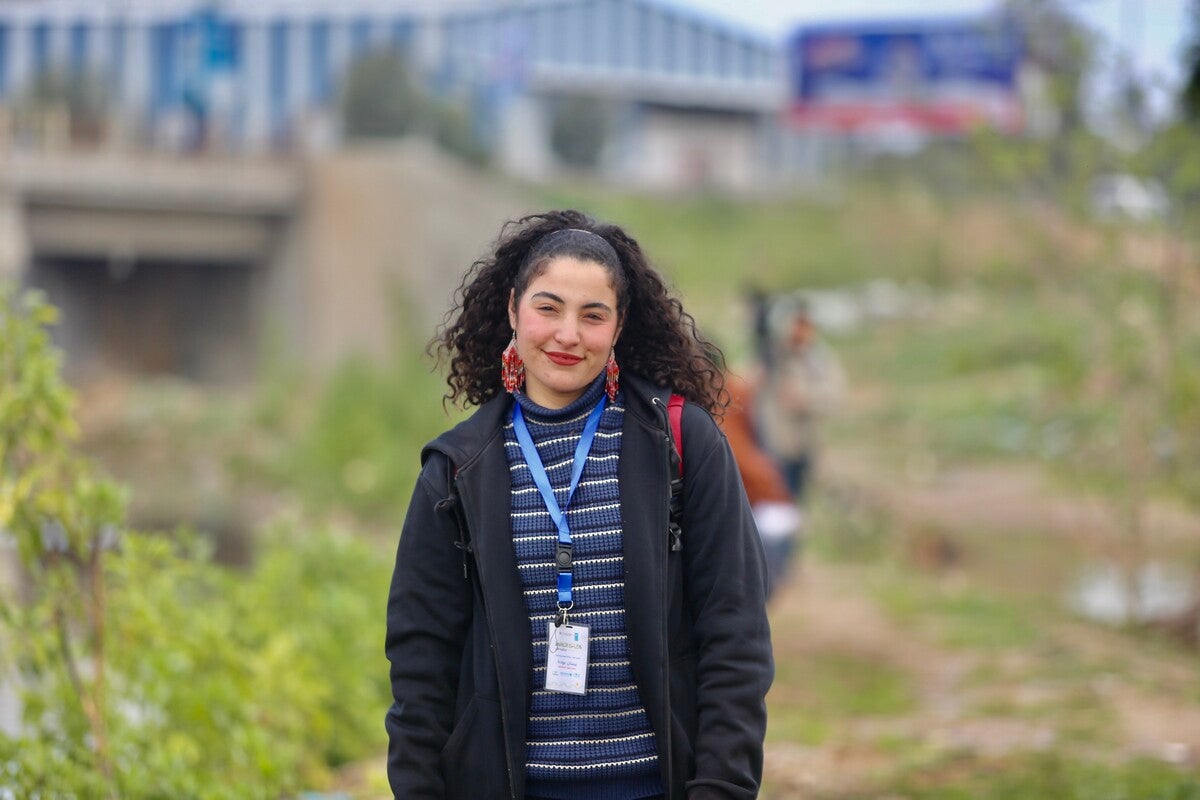 Bisan, 24 years old, is a community and youth activist, content creator and a trainer in the fields of advocacy, debates and twenty-first century skills from Gaza, Palestine. She volunteers in many local and international teams and institutions in the fields of youth and women engagement, climate change and human rights. Bisan has her own show called «Hakawatia» which is broadcasted through Roya Tv and other platforms. In her videos she talks about social issues. Bisan is a member of UN Women's Youth Gender Innovation Agora Forum. Established in 2020, the forum is made up of civil society professionals, young activists, and advocacy and social media influencers to support youth representatives in developing innovative gender equality solutions and engaging with a broader range of stakeholders. Agora members provide expertise on youth and gender issues, design innovative solutions and campaigns, encourage the mobilization of young people and facilitate the dissemination of information to networks and organizations around the region.
"Social media has become an increasingly important space where we communicate, learn and access information. Online content plays a major role in shaping our conception of the world, opinions, and values. Through influencing public opinion, social media is also one of the most effective tools to mobilize and advocate for change. Used responsibly, content creation gives one the opportunity to express their points of view on various societal issues and contribute to building community awareness around critical societal issues such as gender equality and women rights.
Storytelling content on gender equality puts viewers and readers in front of a reality that they might otherwise overlook or ignore. This can contribute to a better understanding of the catastrophic impacts of violence against women, for example. The more people are aware of the impacts of gender-based discrimination on women and their communities, the more likely they are to push for more equal societies.
Women's engagement in content creation is essential to ensure that their perspectives, concerns and aspirations are heard by the rest of society. Yet, their representation in on-line content lags behind that of men. Society is yet to take female content creators seriously. For example, in Palestine, women content creators are often seen as marketing tools for beauty products and fashion.  On the other hand, technical and sociopolitical content as well as stand-up comedy remain largely monopolized by men.
Thanks to youth activism, the number of female content creators is increasing. But those who tackle social, political and economic issues are still too few. Even when women venture into these areas, they are rarely seen as competent as their male counterparts, and often fall victims to cyberbullying.
Personally, I receive a lot of support from my followers for the travel and culture vlogs that I create.   But their support is still tepid when I tackle gender issues or women's empowerment. This shows that I need to do more and encourage other to follow suit. That is why I have established "Tell Lab," a youth platform to train young people, particularly women, on advocacy, content creation, and community leadership. In addition to providing them with content creation tools, we also help them publish their content on popular social media platforms to increase their reach.
I also work with civil society organizations as a trainer on community leadership, gender and advocacy. Working with local NGOs helps me deepen my knowledge of gender equality and women's rights to produce more impactful and consistent content to combat harmful gender stereotypes and advance gender equality and women's rights in Palestine and beyond."